Located just 30 miles west of Chicago, Naperville is an oasis that offers all the amenities of the big city on a more manageable scale. With a bustling downtown, a picturesque setting along the winding DuPage River, and tons of options for dining, entertainment, culture and outdoor adventure, this town of almost 150,000 residents is a suburban gem not to be overlooked. Following is just a sample of things we love about Naperville.
A Brick Road Like No Other
Naperville is a gem indeed, but its Riverwalk is the priceless crown jewel that serves as the city's focal point. A nearly two mile stretch of landscaped brick pathway along the river, this pedestrian's paradise offers something for everyone. Near the city center, you'll find locals enjoying a variety of dining options and outdoor entertainment. For a quieter experience, you'll find fountains, artwork and memorials. Meanwhile, the Paddleboat Quarry and Fishing Pier offer more active options, including paddleboats, paddleboards and kayaks, which are available to rent from mid-May through mid-September.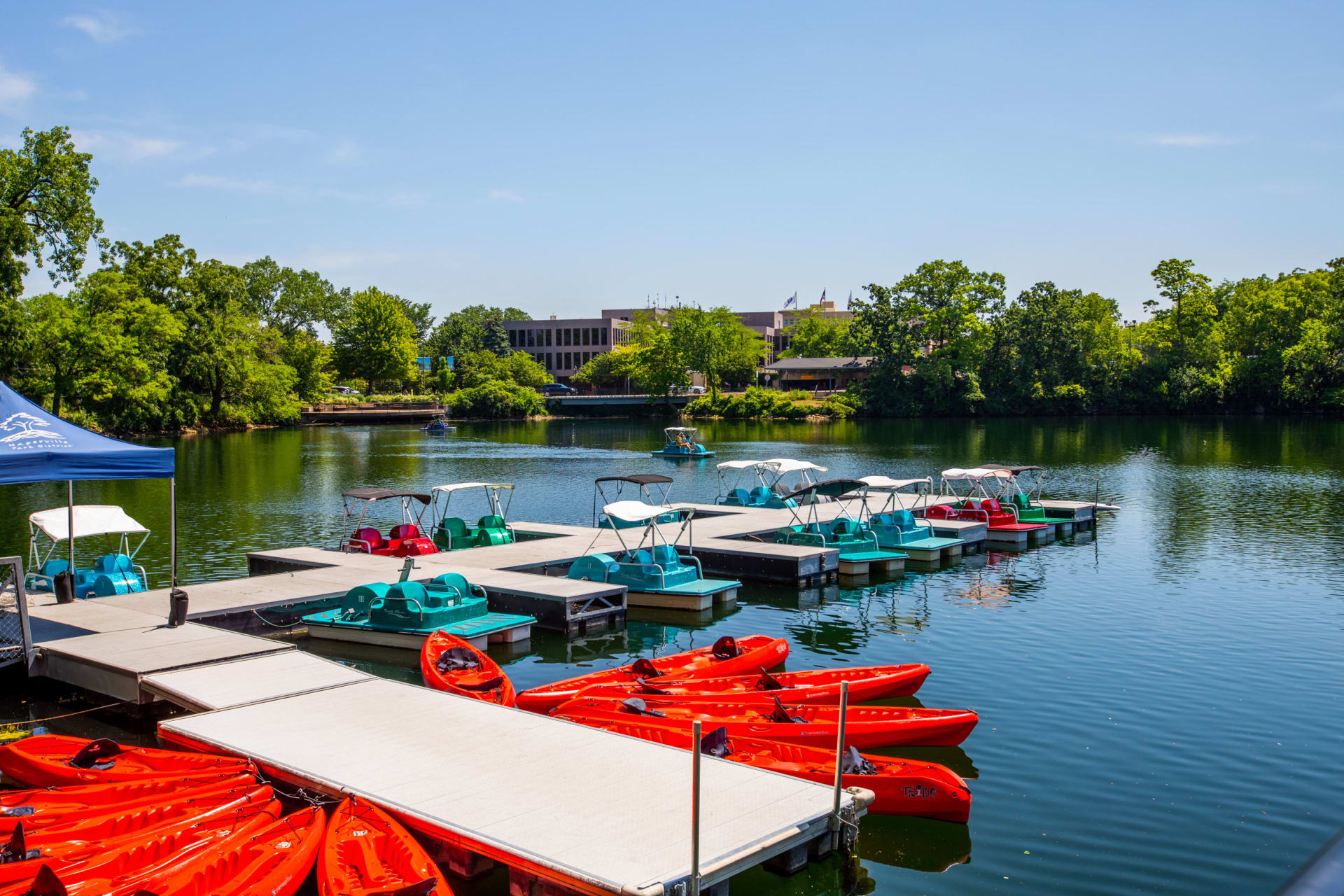 Nature's Bounty
For those in search of a more unfettered and rustic approach to nature, Springbrook Prairie and Greene Valley Forest Preserve offer thousands of acres of lush forests with hiking and biking trails, as well as bird habitats and off-leash dog areas. Green Valley Forest Preserve boasts a scenic overlook with fantastic views of the Chicago skyline, and more than 540 native plant species. Both locations are open one hour before and after sunset. The Knoch Knolls Nature Center offers a more child-friendly nod to nature with ponds, creeks, trails, nature exhibits, an aquarium, live animals and a playground.
Art Appreciation
Music, theatre and the arts have always been given top billing in Naperville. While currently closed due the coronavirus pandemic, the Naperville Community Concert Center (NCCC) and Wentz Hall are two popular venues providing an opportunity to showcase community culture and beyond. The NCCC is a spectacular outdoor performance stage where the Naperville Community Band and other local groups perform. And, part of North Central College, Wentz Hall draws both national and local music, dance and theatre performances. Both anticipate reopening sometime in early 2021.
Palate Pleasers
With a plethora of restaurants ranging from recognizable big-city establishments, to locally owned specialty dining, you'll never go hungry in Naperville. Chicago mainstays like Hugo's Frog Bar, Maggiano's and Morton's offer familiar steak, seafood and pasta dishes. But if you're looking for something more unique, don't miss Meson Sabika. Located in a historic mansion with stunningly landscaped gardens, the exquisite eatery offers Spanish tapas and sangria in an intimate setting that can't be rivaled.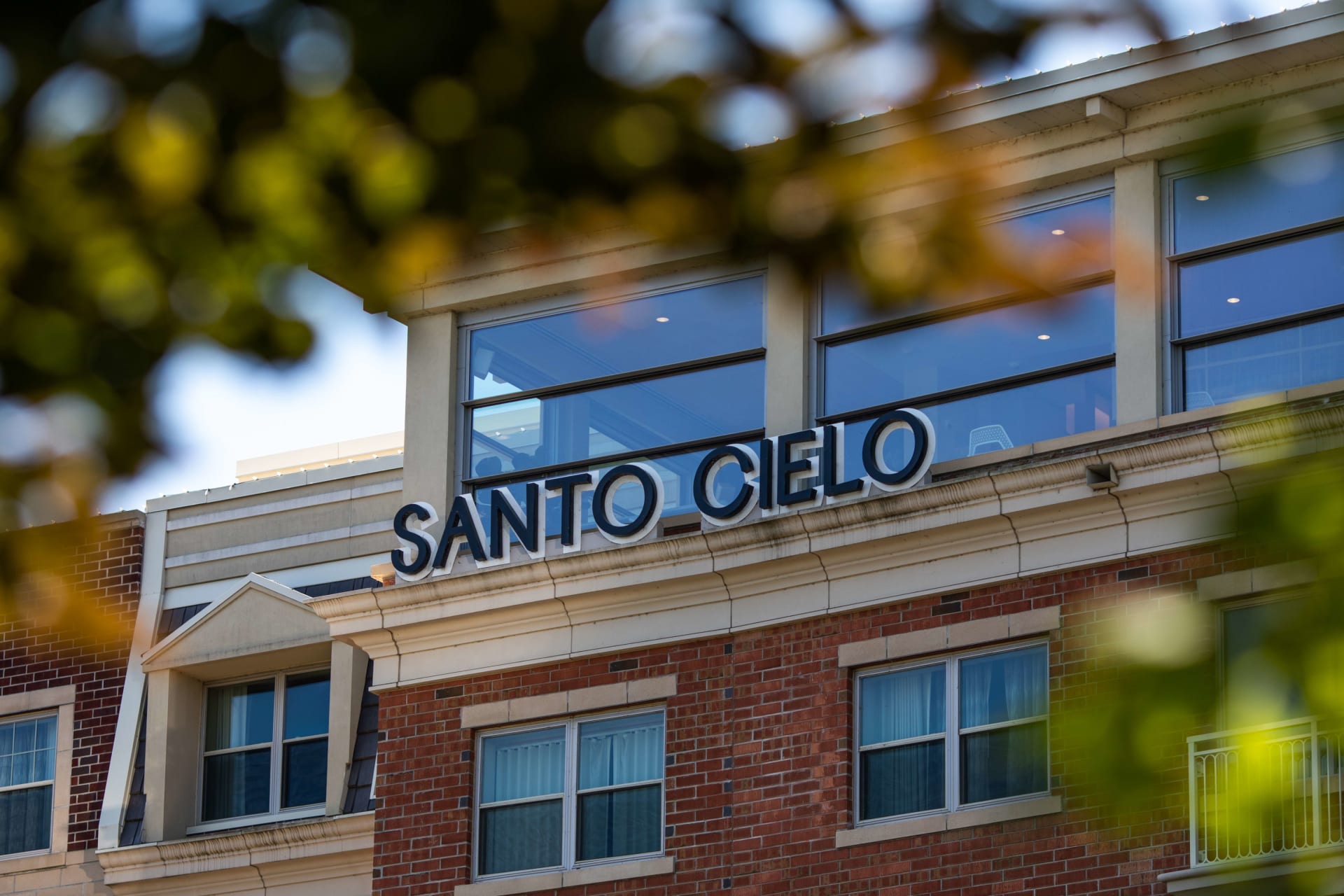 No Shortage of Summertime Fun
Look no further if you're a fan of summer festivals. While this year has put a pause on large group gatherings, Naperville is renowned for its annual Art Fair, Last Fling and Sprint Triathlon. The city looks hopefully toward 2021 to resume all three. Held on the Riverwalk, the Naperville Fine Art & Artisan Fair is put on by the local Woman's Club. In its 61st year, it is the longest running art fair in Illinois and offers hundreds of art and jewelry vendors, as well as food and live entertainment. Usually held over Labor Day weekend, Last Fling is a festival also featuring food and live music, but on a smaller scale. Meanwhile, endurance athletes can get their competitive fix by participating in the local sprint triathlon held at Centennial Beach pool, with a bike course in the surrounding neighborhood and a run along the DuPage River.
Hit the Beach, Minus the Sand
Originally gifted to the city in 1931 in honor of its 100th birthday, Naperville's 'beach' was created from the natural springs beneath two abandoned limestone quarries. The aptly named Centennial Beach offers one of the most unique swimming experiences in the Chicagoland area and has undergone an array of upgrades over the years. Now chlorinated, the water begins at zero depth and goes as deep as 15 feet. A historic bathhouse still remains, but has been updated to include family locker rooms, as well as a separate concession building. Centennial offers a swim team, aquatic fitness classes and swim lessons. The beach is open to residents and non-residents and annual memberships can be purchased.
Unparalleled Historical Experiences
Naper Settlement is an outdoor living history museum, and so much more. Located near the Riverwalk, the 13 acres of learning and interactive opportunities allow visitors to step back in time and learn about local history and how it relates to the present. Guests can stroll the grounds and tour the historic Martin Mitchell Mansion and Century Memorial Chapel while meeting costumed interpreters who will share experiences of what daily life was like in a 19th century Midwestern town. Locals can often be found enjoying evening events including Cinema at the Settlement and Naper Nights which features live music, food and drink.
Kid Friendly, Parent Approved
As we approach 2021, gear up to eventually shake off that post-pandemic cabin fever with your little ones. Although currently closed due to the coronavirus, the DuPage Children's Museum is a great way to engage children in hands-on experiences with art, music and science. A local mainstay for over 30 years, the exhibits and activities encourage critical thinking, problem solving and creativity. Naperville is also home to two nationally recognized public school systems, with standardized test scores that are among some of the highest in the state.
Towering Presence
A stunning landmark, Moser Tower and Millennium Carillon was completed in 2000 to commemorate the arrival of the new millennium. Located at the base of the Riverwalk, the 16-story bell tower adds to the unique landscape that is downtown Naperville. Guests can climb the 253 steps or take an elevator to the top observation deck where stunning views of the Chicago skyline can be observed on a clear day. The evening lights on the tower often change to honor holidays and causes. Summer nights offer a variety of musical performances under the tower.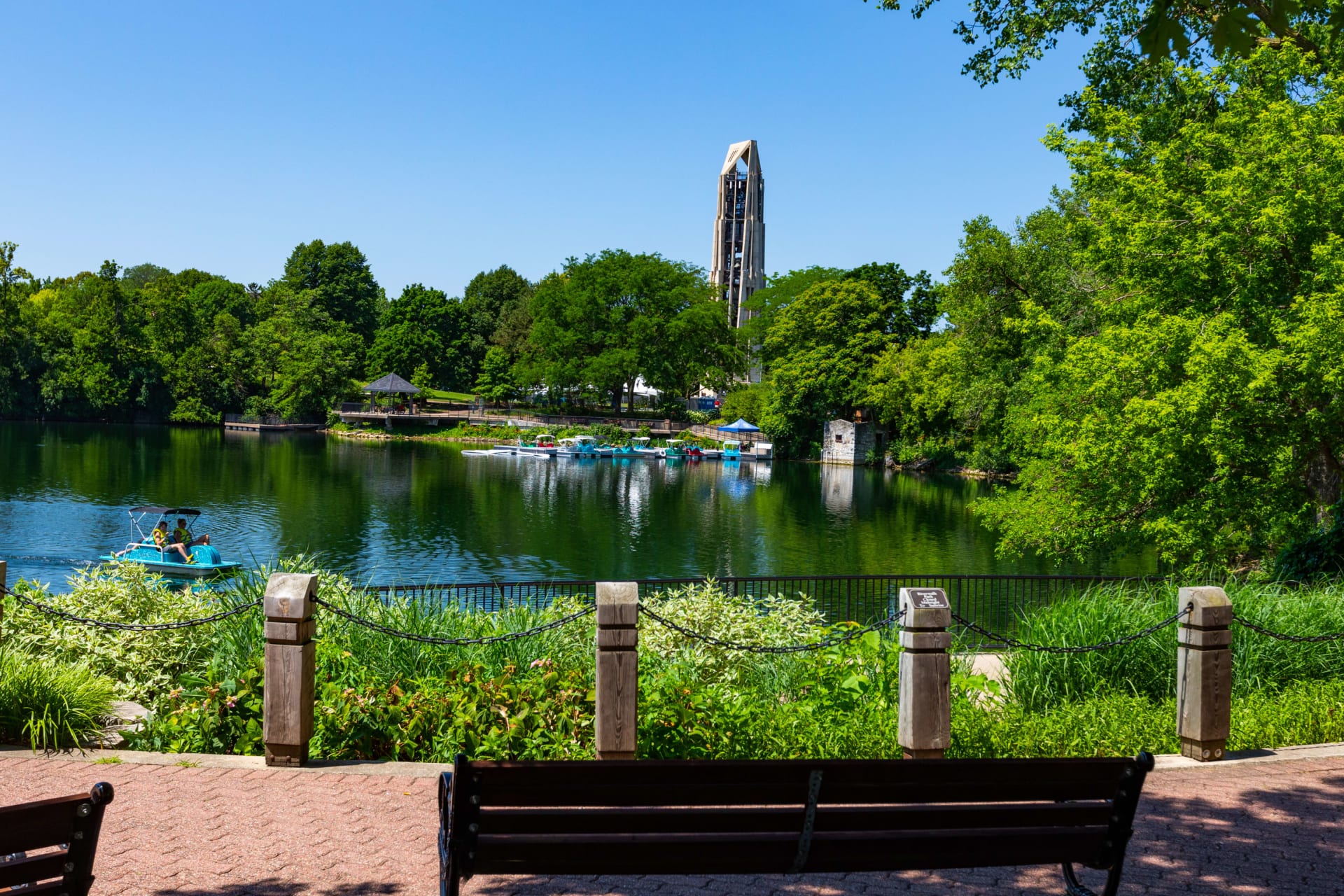 Shopper's Delight
Many of the qualities Naperville offers are a component of their exceptional downtown area. Shopping is no exception! The Main Street Promenade offers walkable neighborhood shopping with major retailers, as well as locally owned stores with distinctively curated offerings. And shoppers will have no trouble getting into the holiday spirit when the sidewalks are decorated and the trees along the promenade are lit during the annual Parade of Lights.
An easy commute to and from Chicago's Union Station, Naperville is just a 40-minute Metra ride, or a little under an hour by car.